---
Online journal of my homebrewing fun.
---
27 April 2005
Ahh.. Invention
Well currently I am working on three projects.
Freezerator
Counter Flow Chiller
Stir Plate
I found some spare parts for my stir plate yesterday. Once I get the rest I will post a picture log of how I built it and the final result. The CFC is another story all together. I got some copper tubing from a friend and have a defunct garden hose to use. I just need to figure out how to make the connections. Again, more pictures to follow.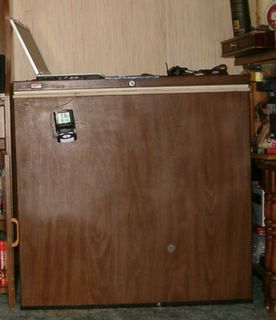 Now for my freezerator. Since I am not a fan of what the exterior looks like, I was thinking about building a case all around it instead of just a collar. I am still working on what it will look like in my head, and how to do it without spending a ton of cash on materials. I may update and post some drawings of some ideas I've had.


26 April 2005
What's on tap? What's on deck?
On Saturday I had the pleasure of tapping my first brew. I acquired a freezer (which will be converted to a freezerator) and all the goodies to have my brews on tap. For my first batch, I have to admit I was pleasantly surprised. It is a Sierra Nevada Pale Ale clone. Not exactly like SNPA, but very enjoyable. Only problem right now is foam.. Holy crap, I get a glass-full of foam each pour. Needs to be worked on, once I get the balance, it will be great!
Saturday evening, I brewed my second batch, a Peat-Smoked Porter. I would have some pictures but, I forgot to take some.
Here is a picture of it in the primary. Below it is a picture of my first pint of the brew I call Absolute Sitter Pale Ale.

Coming soon.. Pictures of my freezer and hopefully the progress I am making turning it into a freezerator. My ideas may be not quite possible, but we'll see.
Inaugural Bloggage...
Welcome to the beginning of the Bentwood Brewery blog. This intent of this blog is to track the progress of my experiences in homebrew. I plan to update with pictures and interesting things that I do along the way. Thanks for coming and enjoy.
-MM